Today we're celebrating the launch of two new Klepto Cat Mysteries (in December and January) AND another book in print. That makes 15 Klepto Cat Mysteries total—all formatted for your e-reader–and 12 currently in print. Moving right along.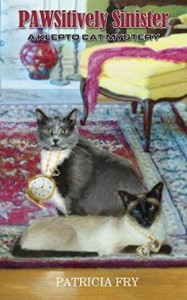 In recent weeks we've announced the publication of Meow for the Money and Claws for a Cause--both formatted for your Kindle. Now, for the first time, you can also purchase a favorite of mine in print. PAWsitively Sinister has been delighting Kindle owners for eight  months. Now you can order the print version. PAWSitively Sinister is full of woo-woo stuff and crazy spirit action as well as interesting cat antics. There's a surprise at every page turn. Read the reader reviews here: http://www.amazon.com/PAWSitively-Sinister-Klepto-Mystery-Book-ebook/dp/B00ZB5WHNC/ref=sr_1_6?s=books&ie=UTF8&qid=1454589668&sr=1-6&keywords=klepto+cat+mysteries
Since this is "Bring Your Best Game Thursday," I'd like to give away a copy of this book—either the print or Kindle version—to the first person who can name the first book in the Klepto Cat Mystery series. Either leave your comment here or email me at PLFry620@yahoo.com (Must have a US address to receive the print version.) Good luck!