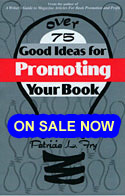 Over 75 Good Ideas For Promoting Your Book
by Patricia Fry

Whether you're a self-published author or have a traditional publisher, THIS BOOK IS FOR YOU. Use this guide to:
Discover new ways to sell more books
Design your own marketing plan
Find your marketing niche
Patricia Fry is the author of 10 published books and she has developed specific marketing techniques for each of them.

Here she documents, explains and illustrates the best of the no- and low-cost marketing ideas from those she has collected over the years, including:
Solicit prepublication orders
Become a public speaker
Do piggyback marketing
Give demonstrations
Make news
Donate books
Become an expert
Join a chat room
Affiliate with amazon.com
Find a distributor
Publish a newsletter
Tap into a specialty market
Enter contests
Hire a publicist
Tap into the library market
Sell your books on the road
Offer your books as a premium
Give home parties
What the experts are saying about Over 75 Good Ideas for Promoting Your Book:

"Writing your book is the tip of the iceberg; promoting it is the larger part under the water. And whether you sell out to a publisher or publish yourself, the author must do the promotion. Fortunately, you are not alone. This book is a gold mine of promotion ideas, encouragement and leads." Dan Poynter, The Self-Publishing Manual.

"As a publicist, I've helped promote over 50 books. I wish I had read this one first. It would have made my job so much easier and the authors would have benefited from some of the creative marketing concepts." Carrie Brillstein, President of The Pacari Company.

"Here is a book where you actually get more than its advertised value. Within each of the 75+ topics there are even more tips. The title could have been 101 GREAT ideas without overstating what this small book offers." Mary Embree, author of The Author's Toolkit, and Founder/Director of SPAWN.

"The process of marketing becomes a celebration in this critically imporrtant book. Without dedication to a plan, we have only come half way." Linda McGinnis, author/publisher.

"Even I, with more than 50 years in PR, learned some new angles. Shows you can teach an old dog new tricks." Irwin Zucker, President of Promotion in Motion; Founder/President Emeritus, Book Publicists of Southern California.
---
Over 75 Good Ideas for Promoting Your Book (Matilija Press, 2000)
ISBN: 0-9612642-5-X, 100 pages. $6.50 $4.95
Over 75 Good Ideas for Promoting Your Book




Shipping charges run from $2.00 to $5.00 for orders totaling from $4.95 to $25.00.
Contact publisher for shipping charges on larger orders: info@matilijapress.com
Read the Writing and Publishing News blog.