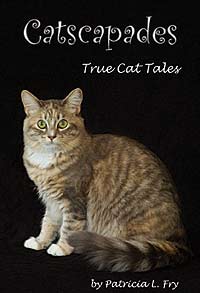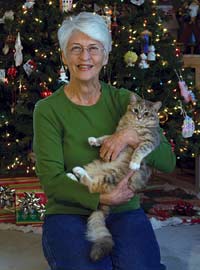 Patricia Fry with Lily
Catscapades: True Cat Tales
by Patricia Fry
Catscapades is a collection of over 40 true stories and vignettes featuring over three dozen cats and kittens in a variety of loving and harrowing circumstances. You'll be treated to stories of clever, clumsy and quirky cats. You'll meet cats who are incredibly spiritual, deliciously humorous and some with quite un-catlike behavior. The stories are amusing, they're touching and they're real. (Most of the stories are illustrated by charming cat and kitten photos.)
You'll fall in love with Frigie FryPan, the fearless chocolate and white cowboy kitten who survived being dumped in a coyote-infested wilderness. Yet, just when he was ready to settle down with a doting family, he was catnapped.
You'll smile while reading the story of Gus, the reluctant babysitting cat. You'll cringe at PomPom's valiant attempt to defend her injured kitten against human intruders and marvel at her sudden uncanny ability to trust one of them completely.
You'll meet an obstinate calico who responds to mind-talk and an engaging Himalayan who responds to a spiritual healing. And then there's Sammy, the cat who changed a heart. There's also a story about four aging cats who were orphaned when their owner died and whose uncertain future was purr-fectly orchestrated through nothing less than divine intervention.
New in this edition, the story of Lily, a charming tabico kitten who was born in an abandoned Volkswagen and raised in an attic with 14 other kittens. At the age of 6 weeks, she was adopted. Life was good for Lily until the unbelievable happened. She was seriously injured when an item designed specifically for cats and kittens fell on her. Even Lily's story has a happy ending that you won't want to miss.
You'll be captivated by these stories. You'll laugh, you'll weep and you'll go hug your own cat—or adopt one who needs you.
See Reviews of Catscapades.

Read the Catscapades blog, http://www.matilijapress.com/catscapades.
---
Catscapades: True Cat Tales
(Matilija Press, 2010)
ISBN – 978-0-9773576-66, 130 pages, 46 photographs.


Price of print version is $12.95.
Ebook: $10.00


Print: $12.95

Shipping charges run from $2.00 to $5.00
for orders totaling from $6.50 to $25.00.
Contact publisher for shipping charges on larger orders: info@matilijapress.com