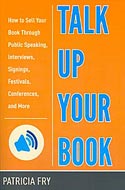 Talk Up Your Book:
How to Sell Your Book Through Public Speaking, Interviews, Signings, Festivals, Conferences, and More

by Patricia Fry



Personality sells books. It's true. The most powerful tool in your book promotion toolkit is your personality. More now than ever before, readers want a relationship with authors of the books they read. Customers will purchase books by someone they know or have met. With this in mind, Patricia Fry has produced this 300-page book designed to prepare you for those public speaking engagements and casual conversations that could lead to book sales. Through this book, you'll learn how to:

Find and create speaking opportunities at appropriate venues.
Land speaking gigs at conferences.
Handle yourself more skillfully in front of an audience.
Improve and protect your speaking voice.
Improve your speaking and communication skills.
Eliminate noodle knees.
Organize workshops and present them on your own.
Create better handouts and use them more effectively.
Come up with speech topics for fiction and nonfiction books.
Attract more people to your book signings.
Form a bond with audience members.
Write pitch letters and press releases.
Sell more books at book festivals and other such venues.

Patricia Fry is the author of nearly forty published books. Most of them relate to publishing and book promotion. She is also a public speaker, conference workshop leader, teacher and organization leader. She has earned her Advanced Silver level in Toastmasters. And she goes out and speaks to authors throughout the U.S. several times each year.

Testimonials on the back of the book:

"Invaluable! Patricia Fry's brilliant guide should be required reading for every writer with a book coming out on any topic, fiction or nonfiction. Not reading it before going on a book tour is like not getting dressed before an interview. Be prepared and learn how to Talk Up Your Book at every opportunity."
~Kim Dower, Kim-from-LA literary and Media Services and coauthor of Life is a series of Presentations.

"Patricia Fry has been helping writers promote their books for many years, but this is quite possibly her best book ever!"
~Moira Allen, editor of Writing-World.com and author of Starting Your Career as a Freelance Writer.

"Patricia Fry's new book, Talk Up Your Book, shares a wide variety of detailed steps that will help you sell your book. The information will be beneficial to you if your book is already in your hands or still in the planning stage, Fry offers examples that apply to both new and established writers. Her tips are offered in a practical and humorous manner.

I find her focus on the importance of communication and personality to be believable as the key to success in marketing. This book is one to keep on your reference shelf to return to frequently as new opportunities arrive."
~ Mary Ellen Warner, speaker/storyteller

See more reviews of Talk Up Your Book.
---
Talk Up Your Book:
How to Sell Your Book Through Public Speaking, Interviews,
Signings, Festivals, Conferences, and More [Paperback]
Price: $19.95
Paperback: 300 pages
Publisher: Allworth Press (November, 2012)
ISBN: 978-1-58115-922-6


Read the Writing and Publishing News blog.