Book Titles
Readers Rave About
Promote Your Book:
Over 250 Proven, Low-Cost Tips and Techniques for the Enterprising Author
Over 250 "EASY " ways to promote your book
"Leave it to Patricia Fry to compile and share this wealth of knowledge in her newest book. This one tops "The Right way to Write, Publish, and Sell your book". Plus, these suggestions for promotion are extremely easy and affordable. Whether you're in the process of completing your book, or you just got it published, this book walks you through so many great avenues to get it noticed. This one is a "must have" for any author!"
- Renay Daniels, Author of Ten Little Bulldogs Sortis Publishing
+++
A Must Have for Your Promotional Toolbox!
"This book is a must have for anyone with a book or about to have a book. This volume should be a part of your marketing/promotional toolbox! There are ideas I never heard of before. (And I like to think I'm a pretty good marketer). If you can't find some new ideas in this complete reference, you haven't been reading. If you garner even one idea that helps you sell more books, you've more than paid for this wonderful reference guide. Authors will spend 6% of their time writing their books. They will spend 94% of their time marketing it. I know that is true from my own experience. Arm yourself with as many venues of success you can. This book has all the weapons to you'll need to promote and sell more books. Patricia Fry, is the consummate professional. You'll do well reading her book." - Tweed Scott,, author of award-winning book, Texas in Her Own Words
+++
Simple, practical advice from a pro
"As an author of 3 books (Most recent: Who Moved My Mouse?: A Self-Help Book for Cats (Who Don't Need Any Help)), I have read a lot (A LOT, A LOT, A LOT) of "how to promote your book" books. My take on Patricia Fry's new book is that it's got a little something for everyone, from the nouveau author to the seasoned professional. For me, I spent a lot of time/money sending out promo mailers to libraries, so it was cool to discover here how I could check and see what libraries across the nation actually carry my book. The book includes sidebars from authors with their real-life stories of how they use promotions and what worked and what didn't. The layout of the book is clean, simple, and easy to follow. I also like the friendly conversational style of writing of the author."
- Dena Harris, author of 3 books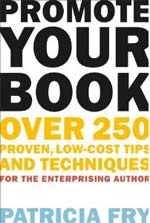 Promote Your Book:
Over 250 Proven, Low-Cost Tips and Techniques for the Enterprising Author

by Patricia Fry


Do you have what it takes to be a successful author, but you're not sure how to go about it? Are you a published author with a book that is struggling in the marketplace? Promote Your Book gives enterprising authors the advantage they need in order to more successfully navigate the publishing industry and gain a better understanding of their responsibilities as a published author. At some point in your publishing journey, you'll discover the enormity of your responsibility in promoting your book. You'll realize that your approach to book promotion is key to your book's success.

This well-organized collection of the most successful low-cost and no-cost ideas provides solutions for both aspiring and seasoned authors in any genre. You will learn how to promote the book without changing your lifestyle; how to promote creatively; when, why and how to get involved in social media; how and when to submit news releases and tip sheets; ideas for arranging book signings, radio, and TV appearances; tips for submitting articles and stories for publication; how to land and present speaking gigs; how to get your book into the school system and libraries; how to enhance the marketing skills you already have in place and much more. We've even included a few valid reasons to spend money on book promotion. Would a book trailer enhance your sales, for example? Perhaps a publicist would help jumpstart sales.

This book is designed with the novelist in mind as well as the nonfiction and children's author.

See reviews in the lower left column and below.

While Patricia is considered one of this country's leading authorities on publishing and book promotion, she brings you the perspective and success stories of two dozen others throughout the pages of this highly informative and useful book.

Patricia Fry has poured into this book the information and experience she has gleaned from over 35 years in this business. Not only was she involved in early publishing models, she stays up-to-date with the industry through her own current publishing projects, by guiding clients and students through the publishing maze and through the work she does on behalf of SPAWN (Small Publishers, Artists and Writers Network). Patricia also keeps her finger on the pulse of the industry by researching for and writing the monthly SPAWN Market Update-a meaty newsletter posted at the SPAWN Web site.

Over a dozen of Patricia's 34 books relate to writing/publishing and she contributes dozens of articles each year to writing/publishing magazines such as, Writer's Digest, Authorship, PMA Independent, Absolute Write, Freelance Writer's Report, Byline, SPAWNews, SPANnet, NAWW Newsletter and others.
---
Promote Your Book:
Over 250 Proven, Low-Cost Tips and Techniques for the Enterprising Author [Paperback]
Price: $19.95
Paperback: 224 pages
Publisher: Allworth Press (August 10, 2011)
ISBN-10: 1581158572
ISBN-13: 978-1581158571




More Reviews for Promote Your Book: Over 250 Proven, Low-Cost Tips and Techniques for the Enterprising Author:

"Promote Your Book features really complete marketing information for writers. It is very complete. It does more in 200 pages than any book has a right to. Not only does it give authors and publishers the basics, you also receive the benefit of Patricia's considerable book marketing experience. So what's to lose? I always figure if I attend a conference, take a class, or read a book and turn up one new idea that will help me build a better career, both the time and money are well spent. This one will surely do that-even for those who have been marketing books for a while now."
- Carolyn Howard-Johnson, author of The Frugal Book Promoter: How to Do What Your Publisher Won't.

"This is a great resource for authors. If you're looking for a combination road map, recipe and shopping list for developing a marketing plan for your book, this is it. And if you don't emerge from reading Promote Your Book with at least a couple dozen new ideas on how to market your book, you haven't been paying close enough attention."
- Kathleen Ewing is a freelance writer with a novel in progress.

"This book has ideas for every genre/every writer. Promote Your Book encourages authors to use their current resources, as well as create and discover new ones to sell their books, whether they are traditionally published, self-published, or published by a small press. It doesn't matter if you write fiction or nonfiction as the tips listed within can be adapted for virtually any genre. Promote Your Book is well-organized, easy to read and lists numerous online organizations and reference websites. All you have to do is take the tips in Promote Your Book and run with them!"
- Wendy Dager, columnist and author of I Murdered the PTA.

"This book includes excellent tips in an easy-reading format. I consider it worthwhile for every author to spend the time and money to have this book in their library."
- Marilyn Meredith, mystery writer.

"Just when you think there is nothing more you can possibly learn about promoting your book, along comes Patricia Fry's terrific new book, and I do mean terrific. Truly, this is the best, most complete book on how to promote a book that I have ever read-and I have read many!"
- Arlene Uslander, co-author of The Mystery of Fate: Common Coincidence or Divine Intervention?

"From things you should do before your book even hits the shelves to creating your own author website, from soliciting book reviews to tapping into the library market, there is plenty of helpful material for the enterprising author to be found in this book. Highly comprehensible, the book is engagingly written without ever being dry or boring. And, apart from lots of advice, it also provides interesting and helpful examples by other published authors."
- Blehner

"This is a 'must have' book for all authors in today's publishing world."
- James Barrett, author of three books, including Ma Duncan

"Whether you are new to book promotion or have been writing and promoting books for many years, you will find a treasure trove of tips in Promote Your Book that will help you market your own book on a shoestring budget."
- Karen Lee Stevens, author of All For Animals and Animals Have Feelings, Too.

"Author Patricia Fry, has a gift. Not only does she offer rational and verifiable information from a perceptive viewpoint, she is an excellent writer. Promote Your Book is a reference book that's fun to read. As a busy attorney, mediator and author/presenter I appreciate the compilation of material in an easy to access format. I love the index. I'll keep this book handy to examine specific sections in detail where needed; and generally to review as a guide to creative ideas."
- Constance d'Angelis, Esq., author of The 7 Laws of Inner Peace, The 7 Laws of Credit for Young Adults, The 7 Laws of Inner Peace WORKBOOK and Transforming Conflict

"Promote Your Book is right on the money for publishing success."
- Helen Gallagher, author of Release Your Writing: Book Publishing, Your Way

"What I like most about Patricia Fry's books are that you get contact information, an outline of steps to follow and most importantly, when applied accordingly, you get results."
- Laura Dobbins, publicist

"I honestly did not realize that marketing a book could be so much work. I was exhausted from just reading about these activities. The amazing thing is that the author seemed to be having fun! It did not seem like a burden for Ms. Fry to promote her books...it was a labor of love. This is the most comprehensive material on book marketing that I have ever read. Highly recommended!"
- Jannette Fuller

"This book is invaluable for all authors."
- Barbara Florio-Graham.

"I look at this book more as a study guide and it truly never leaves my bedside table. All of the authors I know (and I am one!), want to increase their book sales. However, many writers aren't media savvy. We don't always know how to gain the interviews and get attention to our books. We need all the help we can get! Patricia's book would make a great gift to any aspiring author as well. It's a gem of a book that I refer to over and over."
- Lunch Date

Read the Writing and Publishing News blog.

Matilija Press Home | About Matilija Press | Recent Articles | Media Coverage
How to Order Books | Our Guarantee | Consulting Services for Publishers & Authors