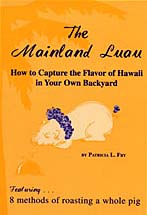 The Mainland Luau:
How to Capture the Flavor of Hawaii
in Your Own Backyard
by Patricia Fry
(Matilija Press, 1996, 1997)
ISBN:0-9612642-3-3, 80 pages.
$9.95
The Mainland Luau



Shipping charges run from $2.00 to $5.00
for orders totaling from $6.50 to $25.00.
Contact publisher for shipping charges on larger orders: info@matilijapress.com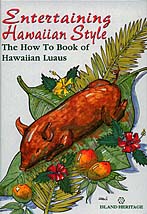 Third edition,
Entertaining Hawaiian Style:
The How-To Book
of Hawaiian Luaus
(Island Heritage Publishing, 1999)
ISBN: 0-89610-381-1
$5.95

This 80-page book is a complete and easy-to-follow guide to presenting a Hawaiian luau, no matter where you live. It features 8 different methods of roasting a whole pig and offers decorating tips, fresh-flower lei-making instructions, recipes and even a Hawaiian language lesson.

Impress your guests by serving succulent roast pork with salmon-stuffed tomatoes, sweet and sour pork, long rice, crab-rice salad, chicken Hawaiian, Ethel's lau laus, a choice of salads and four delicious punch recipes.




What they're saying about The Mainland Luau:

"This is a wonderful volume, abundant with excellent information and outstanding recipes." Kay Sullivan, Kay's Treasured Kookbooks.

"This book is a must for anyone who enjoys creative entertaining." Eleanor Brown, food consultant for The Oaks at Ojai and The Palms at Palm Springs, in California.

"I highly recommend this lively book. The Mainland Luau takes you through the steps necessary to putting on a spectacular event and even shows you how to relax and enjoy the party along with your guests." Mary Embree, author of A Woman's Way: The Stop Smoking Book For Women and The Stop Smoking Diet For Women.
---
Matilija Press Home | About Matilija Press | Recent Articles | Media Coverage
How to Order Books | Our Guarantee | Consulting Services for Publishers & Authors
matilijapress.com revised 11-05-04