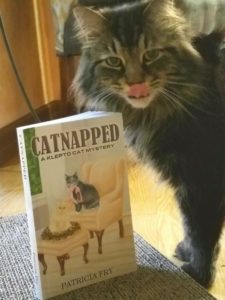 While Book 41 is with the editor, I've been doing some rewriting. I already did a rewrite—actually two of them—on Book One. I revised Catnapped and we reformatted the print book when we produced the audio book. Several of the earlier print books also need reformatting, and I think they need revising. I've learned a lot about fiction-writing these last eight years—I've established my style and I'd like to eventually rewrite and reformat all the earliest books in the series to conform.
You might wonder if this is a boring task or if I enjoy
the process. Actually, while I yearn to create new stories, I find joy in the revision work too. First, I'm in awe of the depth and creativity in the early stories—in all of my stories. I've always felt and still do that it isn't actually me at the computer typing out these plots. I sure don't want to say or believe in any way that these stories are channeled from the spirit world—I can't give what I do that much reverence, but it sure feels-seems as though the material I write is coming to and through me—not from me. I wonder if other writers have the same experience.
Anyway, watch for Book 41—Cats of a Feather—probably sometime next month. And I'll keep you posted as to the progress on the rewriting in case you want to update your library. I'm pretty sure you'd enjoy rereading all of my books because I can tell you, even as the writer, I sure am enjoying the stories and I've read them many, many more times than you have.
Update: the print version of Cat-Eye Witness has been revised and reformatted. We are working on the Kindle version as we speak. And I'm hard at work revising Book 3: Sleight of Paw.